Self-filing customs declarations don't need to be taxing!
Choosing the right solution for filing customs in Europe is one of the most critical decisions your business can make and getting it right will accelerate trade for your business across Europe.

In this article ABM shares some insights on how we empower the industry to automate custom filings in Europe.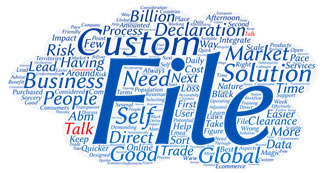 In 2015, the global population amounted to around 7.3 billion people, of which 1.4 billion people purchased goods and/or services online. The global nature of e commerce has a direct impact on your business and the way you need to file customs declarations to keep pace with demanding global consumers.

Custom declaration clearance has always been considered black magic, some sort of sorcery that only a few people could figure what it was all about.

If your business needs custom clearance daily, not understanding the process is your first risk.

Your second risk is having the wrong custom filing solution to support you across all territories you are trading with.

A good customs solution is designed to be transparent, user friendly, help your business, get your products to market cost effectively and at scale.

If your company is operating with a custom filing solution that is not accurately representing its needs this leads to inefficiencies and subsequently loss of potential revenue.

When selecting your customs filing solution, there are several aspects to take into consideration:

• What countries can you automatically file in? - Is it adjusted to the laws of the market you are working with?
• Can it integrate to your workflow? Is it customizable to your business process?
• Can it be scaled?
• What is the lead time for integration and training?

Having the right custom filing solution can transform your business. It can reduce the time to get your goods to market, so you can benefit from a global market place.

Learn more about our self filing customs solutions for EMEA at www.customsware.com